Clifford Owens was the recipient of Denniston Hill's second Distinguished Performance Artist Award. During his month-long residency, Owens led Seminar: Denniston Hill: A Performance Art Seminar with Clifford Owens, our first residency within a residency.
Conceived as a performance art workshop for emerging performance artists, this initiative marks a milestone in Denniston Hill's long-term commitment to alternative models for creative pedagogy and mentorship.
Performances:
Seminar: Denniston Hill was the second iteration of a conceptual, performance-based project by Clifford Owens that involves a workshop-residency within an artist-residency, which was initiated in 2014 at Pioneer Works, a contemporary arts center located in Red Hook, Brooklyn. The title of the project is its organizing structure; five intense days of performance art workshops led by Owens with five participants, selected by a jury, that imagines a critical pedagogy of performance art. During the five-day workshop-residency, each participant developed a new performance, concluding with a public performance.
Clifford Owens's object- and image-based works are produced most often in the studio-space of performances and in collaboration with audiences or other artists. Owens uses photography, text, video, and audience engagement to explore race, class, gender, sexuality, and art history and is recognized for several ongoing, serial performance pieces that investigate race and identity.
Artist Participants & Performances
Alex Beriault, Untitled (Performance with Table)
Alex Beriault lives and works in Toronto. She holds a BFA from Ontario College of Art and Design, Toronto, graduating as the recipient of the 2014 Sculpture/Installation Medal award. Beriault has performed at the Art Gallery of Ontario, Art Toronto International and most recently, at the in/Future exhibition at Ontario Place.
Joseph Liatela is a multimedia artist based in Oakland, California (as of 2017). His work explores the way we perceive gender, sexuality, the body, memory, trans/queer intergenerational trauma, and the self. He completed his BFA from the Individualized Honors program at California College of the Arts (2017). His work has been featured at the National Queer Arts Festival (2016), the San Francisco Transgender Film Festival (2017), SOMArts (2017), and was selected for the New York Arts Practicum (2016).
Asif Mian lives and works in New York City. He works at the intersection of sculpture, performance and filmmaking, Mian explores the imprint that masculinity, competition, ritual and violence have on contemporary culture. Mian is an MFA candidate (2018) in Visual Arts at Columbia University. Mian recently had a solo show at False Flag Gallery, and has exhibited at Bitforms Gallery, NYC. His film work has premiered at SXSW, the Los Angeles and Krakow Film Festivals, among others.
Emma Sulkowicz, Something Bigger Than Me
Emma Sulkowicz lives and works in New York City. She earned a BFA in Visual Arts from Columbia University in 2015 and participated in the Whitney Museum Independent Study Program. Her awards include the National Organization for Women's Woman of Courage Award (2016) and Susan B. Anthony Award (2014), the United States Student Association's National Student Movement Builder of the Year Award (2015), and the Feminist Majority Foundation and Ms. Magazine's Ms. Wonder Award (2015).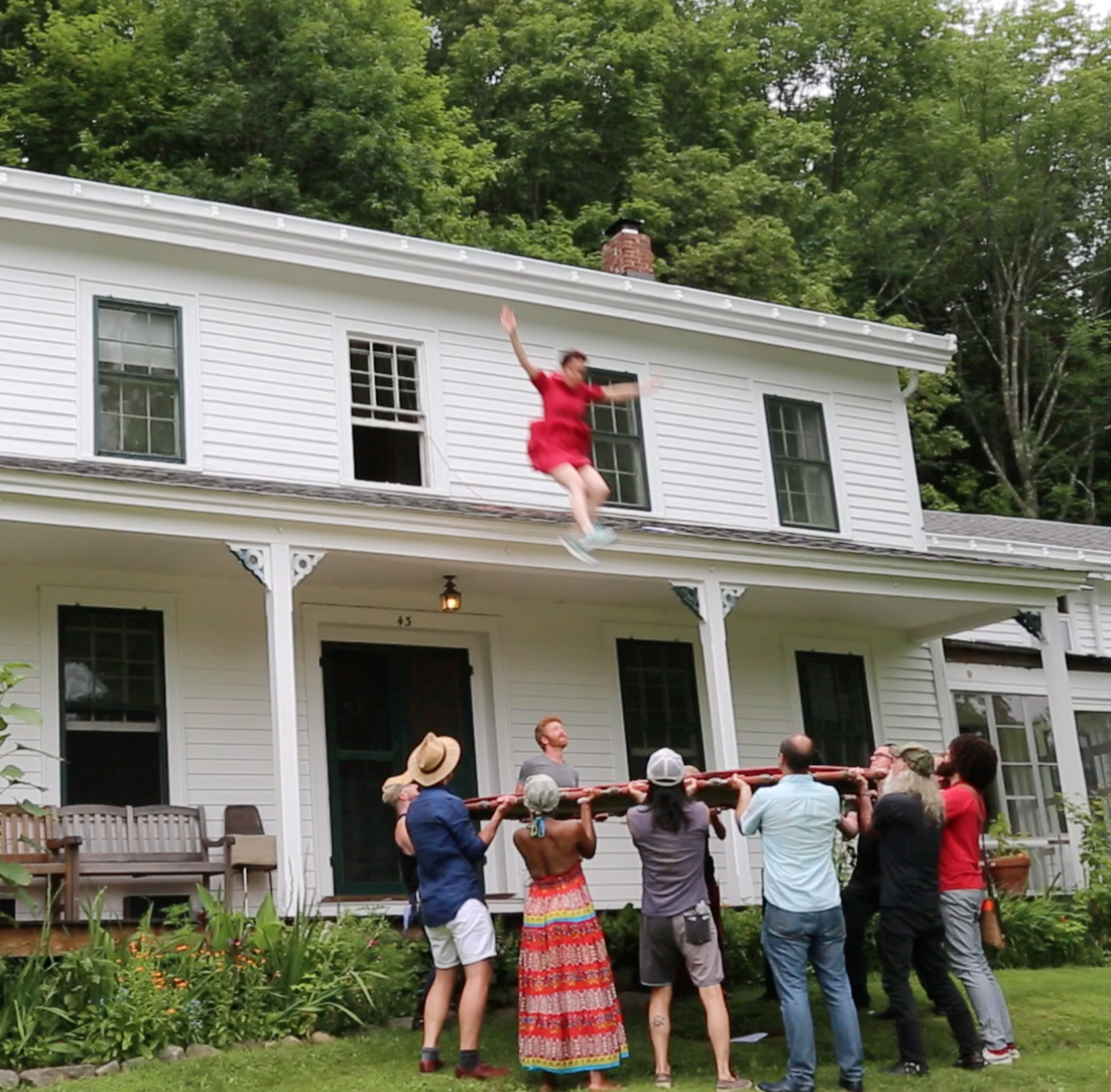 Nadja Verena Marcin divides her time between Brooklyn, New York and Nordrhine-Westphalia, Germany. Marcin graduated from the Visual Art Department of New Genre, School of the Arts at Columbia University, New York in 2010, after obtaining a Diploma of Fine Arts from the Department of New Media at Academy of Fine Arts Münster. Her work has been featured at Abrons Art Center, New York; Garage Center for Contemporary Art, Moscow; Human Resources, Los Angeles; ZKM-Center for Art and Media, Karlsruhe; Dortmunder Kunstverein; Museum Ludwig, Cologne; amongst many others. She is represented by Thomas Jaeckel in New York and AKArt in San Francisco.
THIS WORKSHOP AND PUBLIC PERFORMANCE WERE MADE POSSIBLE BY A GENEROUS DONATION FROM BERNARD I. LUMPKIN AND CARMINE D. BOCCUZZI.
Many thanks to Charles von Herrlich, Owner of Von Bar, for donating the wine and to Samara Ferris of Blind Dog Catering for providing food made from local ingredients. Special thanks to photographers Whitney Brown and Danny Sze for the images on this page.